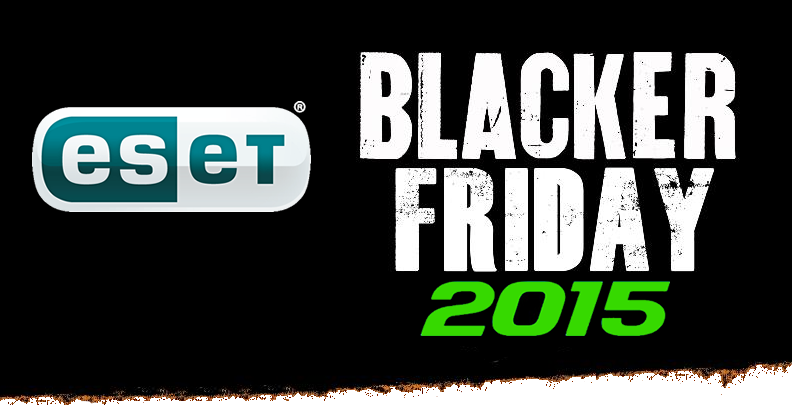 2015:
We are still waiting for ESET.com to announce their 2015 Black Friday deals on all of their antivirus and computer security software subscriptions. We should have all the details about mid-November (usually a week before the BF weekend). Until then, if you can't wait, here are all of their current promotions at eset.com.
What deals do you think ESET will have this year? Leave your thoughts in the comments below!
2014:
Updated on November 28, 2014: ESET has just released their Black Friday deals and this year they have a really good deal – You'll save 50% off on all of there software storewide.  That includes Smart Security, Nod32 Antivirus, and Smart Security for Mac.  Plus you will get a free copy of Mobile Security for Android. Offer only available when ordering directly from their factory store – You can pick up this deal here. Offer ends on Monday, December 1, 2014 and is only available to those in the U.S.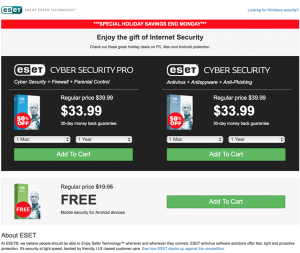 2013:
Updated on November 29, 2013: ESET's Black Friday deals have just been released and they are so much better than last year's deals. Select any of their antivirus or computer security products (PC and Mac versions included) and get a free year of protection with each year of protection purchased.  That's regardless of the number of licenses that you purchase.  And the more licenses that you buy, you're already saving more per license as they have a volume discount built into the pricing plan.
Here is what they has posted on their site for the Black Friday/Cyber Monday weekend: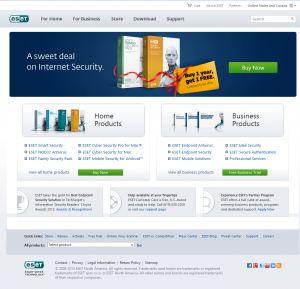 2012:
ESET had a great deal last year on both Smart Security for PC and Cybersecurity for Mac, both of which had all of their two year versions on sale for the price of one.  They already offer between 20% and 25% everyday on the two year versions vs. the one-year option so you're savings an addition 35% to 30% off through Cyber Monday (no promo code was needed).  Nod32 was not on sale except for their standard two-year discount.
See below for their advertised deals at last year's Black Friday/Cyber Monday sale:
Page 3: